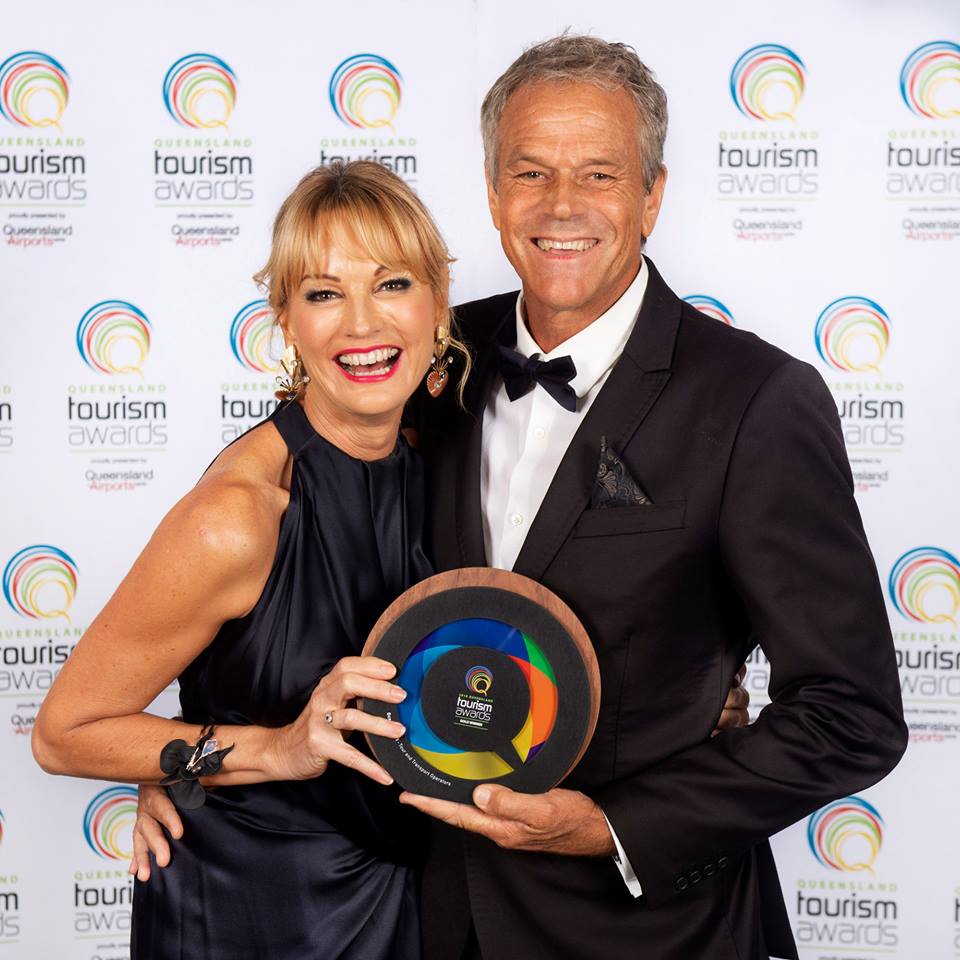 Cape Tribulation based tour operator, Ocean Safari, enjoyed success at the 2018 Queensland Tourism Awards on the Gold Coast on Friday night, winning gold in the Tour and Transport Operator category.  To add to the excitement of the night, Ocean Safari's sister company, Ocean Rafting, which is based in the Whitsundays, won a silver award in the Major Tour and Transport Operator category and the bronze award in the Adventure Tourism category. 
Owners Peter and Jan Claxton attended the 2018 Queensland Tourism Awards ceremony and spoke proudly of their achievements in the three different categories. "It is extremely rewarding and we are full of pride for our teams in both Cape Tribulation and the Whitsundays. Both businesses offer such unique experiences for guests and they are constantly evolving and growing. Our staff play such a big part in all of this and absolutely love what they do and the beautiful natural playgrounds they visit every day.  Once again, we must also truly thank all of those who support us, including our guests, agents and industry partners," said Mrs Claxton. 
Ocean Safari has seen significant growth and development in recent years, and along with their award-winning tours to the Great Barrier Reef, also offer onsite accommodation at Safari Lodge and funky rainforest eatery, the Turtle Rock Café, offering a complete package for visitors to eat, stay and play in the tropical rainforest.
"Winning gold as the best tour and transport operator in Queensland is a huge achievement and something we are extremely proud of. We must also congratulate all of the other winners in Tropical North Queensland and across the state," said Mrs Claxton.
Ocean Safari's commitment to tourism excellence is also reflected on TripAdvisor, with the company holding the #1 position for tours in Cape Tribulation for the past five years.
Ocean Safari will now automatically be included as an entrant in the Australian Tourism Awards which will be held in Launceston in March.
Ocean Safari offers an exhilarating ride to snorkel the pristine untouched Great Barrier Reef off the Daintree Coast. The half day eco tour takes a maximum of 25 passengers and visits two different snorkel destinations, each with an extraordinary array of marine life and coral species. After a fast 25 minute ride, guests are ready to snorkel two fabulous location and on most days, the rainforest can be seen along the mainland beach whilst snorkelling the Great Barrier Reef alongside sea turtles, which are found in abundance swimming over reefs full of colourful coral.